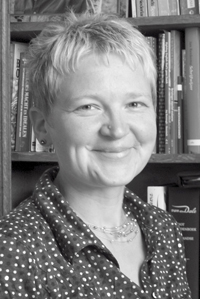 Shades of Green is owned and operated by Christien Ettema. She is a Dutch native sworn translator of Dutch and English, has an M.Sc. in agricultural sciences and a Ph.D. in ecology. As a scientist she worked for 6 years in the USA and for a shorter time in New Zealand. Her unique combination of language skills and broad scientific expertise form the basis of Shades of Green.
Christien has an extensive network of contacts, including translators, editors and academic researchers working in agricultural, ecological and environmental sciences. She is a member of the Netherlands Society of Interpreters and Translators NGTV, the Society of English-language Professionals in the Netherlands SENSE, the Association of Mediterranean Editors and Translators MET and the Wageningen Alumni Network KLV.
Shades of Green is registered at the Chamber of Commerce of Oost-Nederland (08167237). Christien is listed in the Dutch national register for sworn interpreters and translators. For client recommendations see Christien's Linkedin profile.

MEMBER OF THE NETHERLANDS SOCIETY OF INTERPRETERS AND TRANSLATORS NGTV
THE TERMS AND CONDITIONS OF THE NGTV APPLY TO ALL OUR SERVICES
Heersenkampweg 17
7546 PG Enschede
The Netherlands
T
+31(0)53 7112921
E
info@shadesofgreen.nl